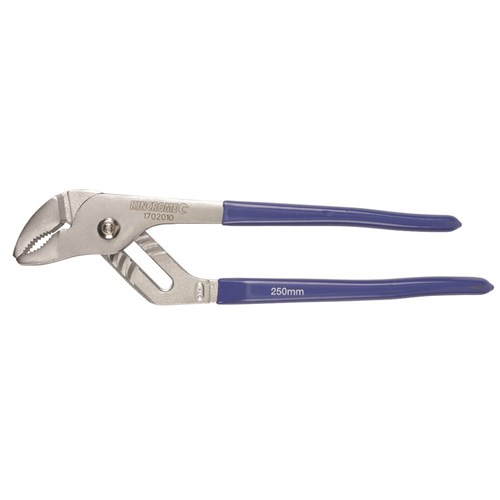 Multi Grip Pliers are used for tying down the structures and it is also suitable for wall plates. If you are looking for the multi grips for the braces of timber then there should be no compromise on the quality as wood work is always critical. So, if you have a business in which you are building wooden structures homes or some of the frames then the equipment you use must be of the good quality. For a general use, a 250mm plier is enough for the work. We provide you the best quality multi grips having maximum features. It should be durable enough that if a heavy work is being done then it must be able to bear the pressure of the work and should have a professional design for easy use and comfortability. A plier is to be used in hands so if it is not comfortable enough then it would not be of any good use and it is not professional.
If your work requires different positions to make the changes and do the work, then we provide you adjustable plier which has seven positions. There seven different positions are more than enough to help you out through the whole work. There are different pliers available in the market but with less jaw opening, we provide you pliers that have jaw opening of up to 35mm. So, it is enough for you to do various jobs and tasks. It comes with the width of 8mm. There should be a proper length of the plier so that you can be comfortable during your job. A very short or very long plier can be a problem for the job, because you may experience different spaces all the time. Plus, if the size is not standard then it will be a time-consuming job. So, we have a plier of standard length of 250mm.
If your work needs more force because there are some tasks that might require a much larger force than the usual tasks so if the built quality of the plier is good then it will be able to bear the force other wise it will break down. Chrome Molybdenum pliers are best for the job which can even hold the high-pressure jobs. The built quality always gives the strength to the design and can be used for the hectic tasks. It is always uncertain that what your job will be. Some times you will be working with wood and sometimes with pipes of water, there will always be different working environment. So, the plier is protected from rust and corrosion by having a black phosphate to give extra protection. It has deep teeth which eventually gives you extra grip and strength for your job.